When planning your wedding, it can be tricky to get the right balance between tasteful and unique. Your wedding stationery, such as save the date cards, invitations and RSVP cards, are quite often the first glimpse your guests get of your "theme".

Below are a few "extras" that we are able to offer you that may come in handy for your wedding day. All products listed are fully customisable and can be personalised to your tastes and complement the theme of your wedding stationery.
Wedding Planning Notebook
For those brides-to-be that are still in the planning stage, this handy notebook includes a calendar of the year, checklists, room for a guest list and plenty of notes pages!
Selfie Frame
Always a winner with those social-media-savvy guests, selfie frames are a fun photo op for everyone involved. They can be decorated however you like, and can even feature a personalised hash tag for your wedding to be shared with the world.
Sleeve/Envelope Style Invitation
Add a unique twist to your stationery with a sleeve or envelope style wedding invitation. These can be turned into useful little packs that contain every item of stationery that your guest may need to be prepared for your big day – invitation, RSVP, menu, song choices, order of the day, directions, and whatever else you may wish to include.

Bunting
Make a statement on your special day with some bunting décor. This product has become very popular during recent years, especially with rustic- or festival-themed weddings. They can be traditionally triangle-shaped, or a square/rectangle shape, and decorated to reflect the theme of your stationery.
Envelope Seals
Envelope seals are a great way to add that finishing touch to your invitations. They can be designed to your requirements, and match the theme of your special day. They are really easy to apply, there's no glue required, just simply peel the label from the backing paper and apply it to your envelope. Wedding envelope seals can also be used to decorate other items such as favour tags.
Wedding Sign
A beautiful sign can speak a thousand words! You can welcome your guests to your wedding, include a poem that epitomizes the love you share, or you could display a rhyme or limerick that perfectly sums up your sense of humour.
Wedding Photos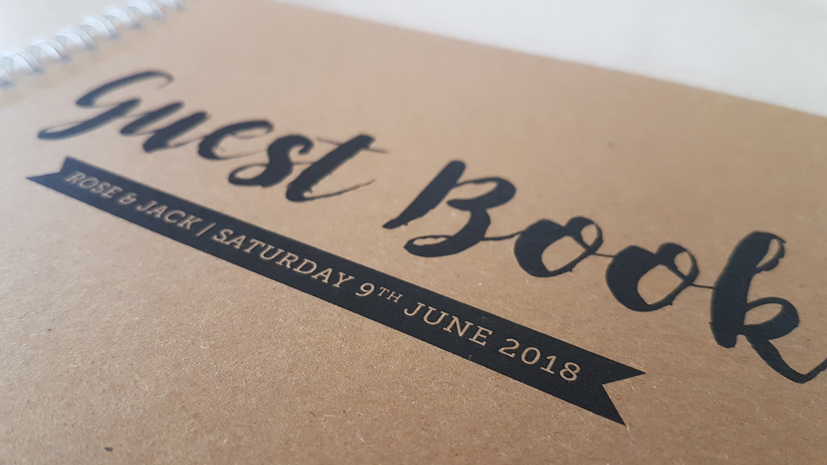 Elegant Wedding Stationery is part of the Telford Reprographics family, so we are well equipped to print off your wedding photos! You may have them on a USB stick provided by the photographer, or you may have some that have been taken by a relative. You can rest assured that the print quality will be excellent every time, and that your wedding photos will be left in capable hands.
Guest Book
A fantastic way for your guests to leave well-wishing messages, guest books allow you to reminisce about your wedding day. They can be decorated to match the theme of your wedding, and contain 50 blank sheets with plenty of room to be written in.
For any additional information on the above products, please contact Elegant Wedding Stationery at info@elegantweddingstationery.co.uk or visit the website: www.elegantweddingstationery.co.uk