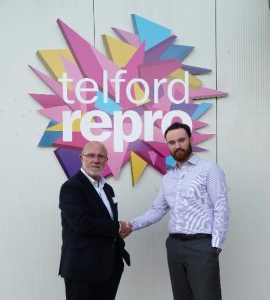 Telford Reprographics Ltd, a family run printing business established in 1994, is looking to the future with the appointment of a new Director – Alex Llewellyn, son of the owners Peter and Elizabeth Llewellyn.
Alex has been appointed to the position of Operations Director.
Alex, a graduate of The University of Leicester, obtained his BSc in Media Communication and Society in 2010 and has deployed his skills and talents within the Company since March 2011. He has built his knowledge from the ground upwards and has been involved in every aspect of the business.
"The print market is constantly changing and the Company is always looking ahead to ensure the best possible service to our clients, who included local, National and International Companies. We have a policy of renewal and investment for all our equipment to ensure the highest quality finish" said the Managing Director, Peter.
"Our aim now is to utilise and continually develop the skills we have with our staff and to support Alex in his Directorship role. His experience with the Company is extremely valuable and his contribution to date has ensured we have the right technology for the future".
Alex added " I am looking forward to further developing my skills within the business in the areas of finance, recruitment and training whilst engaging with the developments within the Print Industry, and continuing to focus on the needs and requirements of all our Clients".