The last year has been quite a year for Shropshire's leading digital print compan
y – Telford Reprographics Ltd.
They celebrated 20 years in business last year – which is no mean feat given the recent economic situation.
They have recruited new staff including an apprentice – 
Rhi
 Moore – via County Training.
Building work has taken place at their premises on Hadley Park, Telford. The building work has 
created staffroom facilities for their expanding workforce and also created additional space for new 
Finally
,
 they 
have just taken delivery of
 cutting edge printing and finishing equipment.
Telford Reprographics have updated their existing Konica Minolta digital printing press system.  
Peter
Llewellyn, Managing Director,
 explains "
This 
means that we will be able to provide the very best digital print quality possible for our
 clien
ts. The machinery will also increase our production capabilities."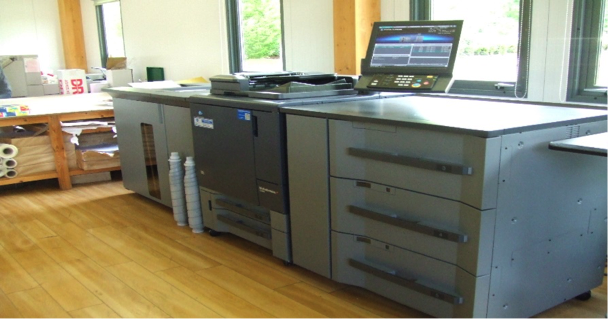 Konica Minolta 1060 printer
They have also just purchased state of the art Duplo computerised print finishing equipment. This will ensure high quality booklet making and general print finishing capabilities.
Telford Reprographics will now be able to offer the fastest print service possible, with most jobs turned around within the day.
"It has been quite a year quite a year and the changes we have made will enable us
 to go forward continuing to offer the best facilities and service pos
sible to our clients" said Alex Llewellyn, Operations Director.
For full details of the print services they provide visit their web-site 
www.telfordrepro.co.uk
 or follow them on Twitter and Facebook.