Digital printing boss Peter Llewellyn may be over the age of retirement but he's showing no sign of putting his feet up as his firm celebrates its milestone 20th anniversary.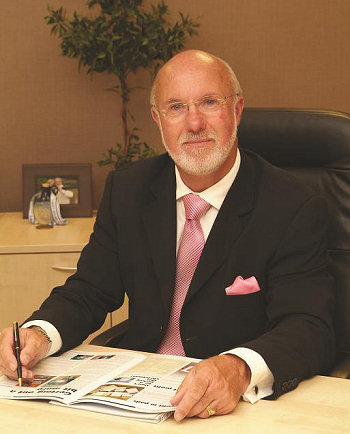 With a huge client base ranging from small local firms to Muller, Xerox, National Trust and Ministry of Defence on its books, it's quality, personal customer service and the perfect location that the 66-year-old managing director of Telford Reprographics hails as being the key to success.
And with expansion plans into South Staffordshire on the horizon, this family run company, which is based at Hadley Park East Business Park and is an official sponsor of Telford United, is not resting on its laurels.
Grandfather-of-four Peter, who has clocked up 40 years in the print industry, and runs Telford Repro with his wife Liz and 24-year-old son Alex, said: "I still love coming to work. I love what we do and I don't have any plans to stop yet.
"But I still want to see the business growing so I am able to leave a healthy legacy for my son and so the business can continue when I eventually retire.
"As a result we have expansion plans on the horizon to celebrate our 20th anniversary year to target new geographical locations, which we are all very excited and enthused about."
As well having Blue Chip companies on its books, Telford Repro had also retained the loyal custom of a range of SMEs since its inception two decades ago by staying competitive.
But why has Telford Repro succeeded where others have failed in the struggling economic climate of recent years? Local Rotarian Peter, who lives in Lilleshall, adds: "I think the reason for our longevity in a struggling economic climate is ensuring that we're always at the forefront of the latest technology and keeping abreast of what's happening in the industry as well as high quality customer service.
"Our key goals are reliability and quality and to always be friendly and approachable.
"We strongly believe that this is the reason for our ongoing and growing success – as well as the fact that Telford is the perfect location to do business from for a whole host of reasons."
With a £1 million pound annual turnover, Telford Repro, which also runs a wedding stationery firm, believes that it's important to give something back to the local, regional, and global community, and supports several charities including Severn Hospice and Medic Malawi amongst others.
With an eight-strong staff, including graduate designers, the firm produces every element of bespoke orders in-house without outsourcing anything and it regularly replaces equipment and software with the latest technology.
Telford Repro has always been Telford-based and for the last seven years has been located at Hadley Park East Business Park in a purpose-built building. It's from Telford that it delivers to local, national and European sites usually on a next day basis.
Posted on April 8th, 2014 by shropshirelive.com
Read the full article at: http://www.shropshirelive.com/2014/04/08/telford-reprographics-celebrates-milestone-with-expansion-plan/