Do you want to add a touch of luxury to business cards, wedding stationery, or make a statement on your greeting cards and invitations?
Whether it's a subtle hint to highlight or accent your designs or you want to make a bold impact to stand out from the crowd – foiling can help you.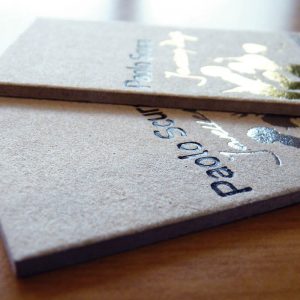 Foil printing is a special printing process using film producing a unique design on a variety of materials. This finish can vary between metallic, matte and even holographic.
In terms of the process involved, both heat and pressure are used. This combination ensures that the foil sticks to the surface in the intended areas when used in conjunction with our specially made foil blocks.
We are able to foil a wide range of different products including: Business Cards, Letterheads, Compliment Slips, Diaries, Menus, Leaflets, and much more.
Choose from Copper, Gold, Silver, Grey, Black, White, Red, Yellow, Green plus many other colours too.
"The foiling service compliments our digital print business and keeps services in-house where we can control the quality of the product and meet client deadlines efficiently." Said Managing Director Peter Llewellyn.
"We believe in the future of digital print and now it can be foiled"
If you would like to add a touch of sparkle to your printing find out more on our website
www.telfordrepro.co.uk or call 01952-670211.