Wow – what a year!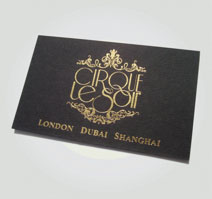 New staff, new machinery and now a new service to offer our clients!
We are thrilled to announce that we have bought a Foiling Company.
We are now able to give our customers even more choice of finish on business cards, presentation folders, menus, certificates, Letterheads, Compliment Slips, Napkins, Beer Mats, Key Fobs, Lighters and many other products.
"The Foiling service compliments our digital print business and keeps services in-house where we can control the quality of the product and meet client deadlines efficiently."
Says Managing Director Peter Llewellyn.
Peter added, "We believe in the future of digital print and now it can be foiled"
To discover more about this new service call 01952 607211 or visit our foiling section.