As this week is National Apprenticeship week we thought we would share our Apprenticeship success story.
Telford Reprographics Ltd has been a long-time supporter of student training with work experience and has established good relationships with many Schools seeking work placements.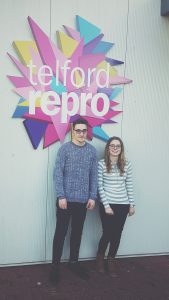 In 2014 we chose the route of Apprenticeships when seeking to expand its workforce. Our first Apprentice was Rhi Moore.
Rhi completed her 12 month training and won an Apprentice of the Year award. On completion she was offered a permanent contract and is now a valued member of our team.
Rhi embraced the Apprenticeship and was eager to learn all aspects of the Digital Print Business. She has been encouraged to develop her skills in design, adding to her knowledge of print and finishing and looks after many of our Key Clients.
Furthermore, building on the success of our first Apprentice, we looked again to Telford College of Art and Technology (TCAT) when a further opportunity presented itself.
The calibre of candidates through TCAT has always been high and we were delighted to welcome Ben Raftery to our Apprenticeship Scheme in 2015.
Ben is a great addition to our young team and has established himself in the areas of print and hot foiling. He completed his Apprenticeship in September 2016 and was rewarded with a permanent contract.
Offering structured and supported training to young people whilst developing and assessing their abilities in a working environment has proved a success for Telford Reprographics. As a company we are proud to promote this.
"In conclusion, we have found the Apprenticeship Scheme highly beneficial and the students undergoing Apprenticeship training seem to enjoy and embrace the experience." said Alex Llewellyn – Operations Director.
"The Company is committed to the development of young people, reflected in the on-going work placement schemes and will continue to offer Apprenticeships when appropriate."
Learn more about Telford Reprographics – visit our website